To celebrate our Brownie Unit turning 50 years old this September, we started this term by holding a birthday party.  Our current Brownies and Leaders were joined by previous Brownies and Leaders to help us celebrate.
Guests were able to browse photographs spanning the last 50 years, see examples of previous uniforms and handbooks, as well as having a go at some craft activities – including icing Trefoil shaped biscuits!
Of course, it wouldn't be a birthday party without cake; we were treated to a lovely cake baked by Nicole, one of our Leaders, which was cut by our previous Brown Own and current Barney (Barn Owl).
We're looking forward to the next 50 years!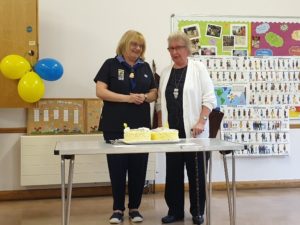 Mary Judd (Barney) and Ann Wood (Brown Owl) cutting the birthday cake.